Best known to us as Burma, but since 1987 renamed Myanmar, those lucky enough to visit will discover an optimistic, diverse, scenically stunning and culturally rich nation.
As the largest mainland South-East Asian country Myanmar boasts an unbeatable variety of scenery from Himalayan peaks to tropical beaches. In between you'll find the imperial architecture of Mandalay, sweeping temple-strewn plains of Bagan, historic golden pagodas of Yangon, Inle Lake's stilted villages & floating gardens, stunning hiking around the hills of Kalaw & Pyin Oo Lwin and the palm fringed beaches of Ngapali.

However what really sets it apart is that the country's character, culture and traditions are still intact and very accessible to visitors. So try not to tick every tourist box, relax a little and aligned yourself with the pace of life that mirrors the slowly changing seasons. Some of the most memorable experiences can be enjoyed by pulling up a seat in a local tea house (national obsession, rather like your local) and watching the world pass you by. Myanmar is approaching its sweetspot, which means you travel in comfort yet still enjoy adventure and originality, whilst riding the wave of optimism that sweeps the country.

All of our holidays are unique and fully personalised, there's no group commitment, so we can adapt the itinerary to fit your budget, timeframe and interests.
---
First Holiday to Myanmar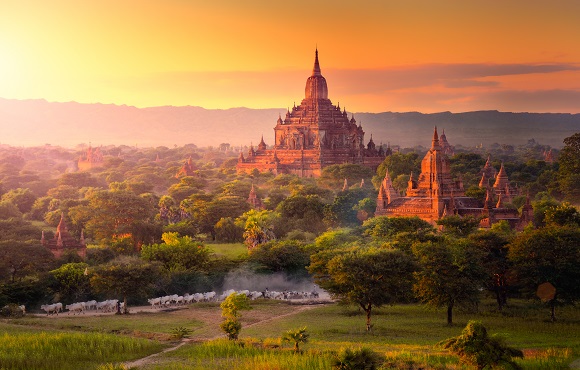 If this is your first holiday to Myanmar you'll probably want to visit most or all of the country's 'big five'. Most holidays start in Yangon, Myanmar's largest city where modernity pushes against the ancient and Colonial to create a vibrant welcome. Then explore the shallow waters and stilted villages of Inle Lake by private longtail boat and the dry desert pagoda dotted plains of Bagan by car, horse & cart or electric bike; before perhaps taking the a cruise on the Irrawaddy or slow train to Mandalay, the country's cultural capital. End on the palm fringed pristine beaches of Ngapali Bay.
With so much to see and do the temptation is to adopt full touring mode, but it's worth including a free day here and there, so you can take time out to enjoy what makes this beautiful country so special. Or add a destination or two slightly off the tourist trail, whether it be hiking around a former British hill station (Kalaw or Pyin Oo Lwin), spending the night at Golden Rock, a major pilgrimage site for Buddhists around the world or travelling by boat to the ancient capital of Mrauk-U. Don't feel the need to cram in everything, as once you've been to Myanmar you'll be back!
---
Southern Myanmar
For most Yangon will be the starting point of any Burmese holiday and in many ways will be totally different to any other part of the country you visit. Don't think you're coming to a sleepy backwater;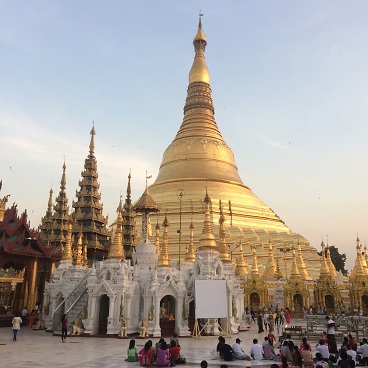 Yangon is developing fast as modernity pushes against the ancient and Colonial to create a vibrant welcome to those entering Myanmar.

The main sights of the old city are contained within a fairly small area easily explored on foot with your guide. The highlight is an evening visit to the magnificent gold-encrusted 2,500 year old Shwedagon Pagoda, the most important religious site in Myanmar. It's a great introduction to Myanmar's rich history as you join hundreds of Burmese to watch the low sun pick out the pagoda's details before the whole complex is lit up at sunset.

Many now leave southern Myanmar for the central belt, but those who venture further south will discover a rich tapestry of beautiful scenery, magnificent Buddhist pagodas and sleepy colonial towns. Leave Yangon and travel through the bustling town of Bago (Kyaly Khat Wai Monastery & Taukkyan War Cemetery) to the spectacular Golden Rock at Kyaiktiyo, which is an absolute must if you're travelling this way, the 3rd most important Buddhist site in Myanmar on top of a beautiful mountain ridge where thousands of Burmese & Thais make a pilgrimage to each day.

Keep heading south and you leave the main tourist trail to find Mawlamyine, the British Capital of Lower Burma, squeezed between the Salween River delta and Andaman Sea and surrounded by pagoda-dotted hills. Its rich history is reflected in its faded colonial architecture, links to George Orwell & Rudyard Kipling and close proximity to the infamous Siam-Burma "death railway". The following day head down to the waterfront early morning to explore the photogenic local market and take a 4 hour boat ride through limestone Karst countryside to Hpa An, a colourful laid-back town and home to Kyauk Kalap, a unique pagoda set on top of an unusual rock formation in the middle of a lake. A very enjoyable diversion that reveals another layer of this beautiful country.

The final stop is the beach and islands of the Myeik Archipelago. Look at the map of Burma and you can't help but have your eyes drawn to the ribbon of coast that stretches down next to Thailand and imagine the beauty of the beaches and islands that await you. Very few of the 900 or so islands are permanently inhabited and there are very few hotel options at the moment. The area lends itself perfectly to sailing and liveaboard boats for diving are the most popular way of exploring the area.
---
Central Myanmar
Just an hour's flight from Yangon or a day touring by car or train from Mandalay, central Myanmar will be the focal point of most holidays as it offers a superb variety of sights, scenery and culture.

Mandalay is the principle city and thanks to Kipling it remains the most immediately evocative destination. It's the cultural capital and is perhaps where you discover the most visible signs of the optimism that has become such an important part of the country's character. On the surface it's a mixed bag, but get past the modern sprawl and you'll find a rich seam of Bamar culture, seen at the countless monasteries, Shwenandow Pagoda, craft shops, street food and teahouses.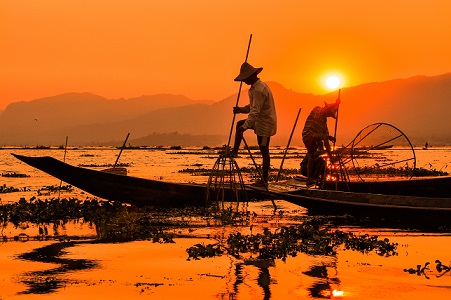 If travelling on from here a great option is to travel by car to Bagan, stopping en route at Amarapura, one of Myanmar's former capitals. Built by King Bodawpaya in 1783 it served as the centre of power until 1857, when the capital moved to Mandalay. Visit the Mahagandayon Monastery, one of the largest teaching monasteries in Myanmar and home to up to 2000 monks at any given time. Then walk across U Bein Bridge, the world's longest teakwood bridge. Made from wood salvaged from the city's palace it remains a central part of the community with hundreds of locals and saffron-robed monks walking their bicycles home along it and fishermen going about their daily work in its shadow.

Often at the top of a visitors' wish list, Bagan's 2,500 stupas and temples won't disappoint. If you're slightly fed up with the pressurised scrums at other world famous historic sites, prepare to be surprised as Bagan has a wonderfully relaxed air and almost desert like climate (in winter). We'd recommend a day of private guided temple viewing and then, fully orientated, rent an electric bike and explore the sandy paths that weave from one temple to the next stopping for lunch along the way. Just 90 minutes by car you'll find Mount Popa, strikingly perched on the top of an extinct volcano. Climb the 777 steps to reach the mountain top Taungkalat monastery where powerful nats (Burmese spirits) are said to live. From here you can enjoy a panoramic view of Bagan and the surrounding countryside. Bagan shouldn't be hurried, add a night and you won't be sorry.

Two other destinations stand out. Kalaw is a former British Hill Station that's set amongst beautiful mountain scenery and offers easy access to some of the country's most beautiful hiking trails, whose tranquillity and beauty will remind you why you've travelled so far. Travel in October to mid-December and the land will be covered in wild flowers and the harvest will be in full swing. Less enthusiastic walkers might like to include a stay the Green Hill Valley Elephant Camp that cares for retired elephants and actively encourages visitors to participate in its forest recovery programme.

From here Inle Lake is just a 2 hour drive or the more energetic can walk over 2 days through beautiful scenery and farming villages, staying at a monastery along the way. After Bagan, Inle Lake must be the most popular spot in the country. Its shallow waters stretch for over 20 miles, ringed by small fishing villages and majestic hazy hills. Explore by private longtail boat and discover a water world dotted with stilted houses, floating gardens, family cottage industries, markets and ancient pagodas & temples.
---
Northern Myanmar
Head north-east of Mandalay and hills soon start to dominate the landscape and as you'll no doubt guess the British were drawn to escape the heat of the city. First stop is Pyin Oo Lwin (Maymyo) at an altitude of 3510 feet and founded by the British in 1896. Its popularity was sealed with the construction of the railway and it became the summer capital for the British. Dotted with colonial architecture the real joy comes from the scenery and natural splendour that surrounds you. Spend a couple of nights before heading to further north to Hsipaw.

Getting to Hsipaw is part of the fun, following a snaking road that climbs higher and higher into the mountains. Pine trees take over from the lowland deciduous woodland, revealing a land of spectacular vistas, deep ravines and knife-edge ridgelines as you pass Shan, Palaung, Lisu and Gurkha villages. Drop into Hsipaw and you'll find a languid riverside town, home to one of the country's best markets. No surprise to learn that those adventurous enough to venture here are drawn by the scenery and the chance to take to the walking trails whilst enjoying the slow pace of rural life.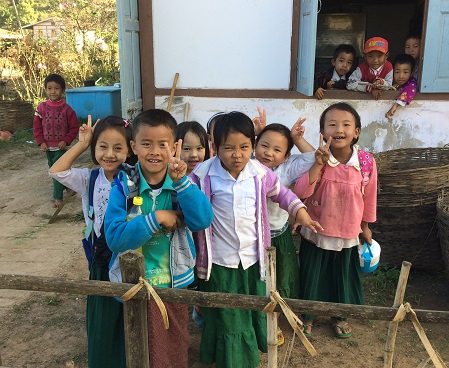 As we all know the British loved to build a railway when Empire building and the track from Mandalay up into the mountains, using zigzags and reverses, through Pyin Oo Lwin and Hsipaw to Lashio is the best example in Burma. Those hardy enough or with a love a rail travel can take the 12 hour ride from beginning to end, however the highlight for many aside from the stops in Pyin Oo Lwin and Hsipaw is the world famous Gokteik Viaduct.

Alternatively if you want to push the limits and budget head for Putao (off limits at the moment). Situated in the far north of Myanmar, and only accessible by air, Putao is a small town in a picturesque sub-tropical valley at the foot of the Himalayas. Originally the site of British Fort Hertz from 1914 to 1942 it's now famous as a jumping-off point for walkers who want to explore the region's deep forests, wildlife sanctuaries, snow-capped mountains and local tribal communities. Other popular activities include white water rafting past remote villages, bird watching and elephant trekking in the dense forest or mountain biking along small jungle paths. This is perhaps not for the first time visitor and is expensive to visit, but few other places on earth that are relatively easily accessed can deliver such a holiday experience. Truly once in a lifetime for those who can make it. The best time to visit Putao is between November and April.
---
West Coast Beaches
Myanmar's coastline will surely be as famous as Thailand's in a decade or so, but for now you can relax on relatively undeveloped beaches in small, laid back resorts.

The most popular is Ngapali Beach, the perfect place to conclude any holiday. A short flight from the country's main destinations even the airport overlooks a palm lined beach.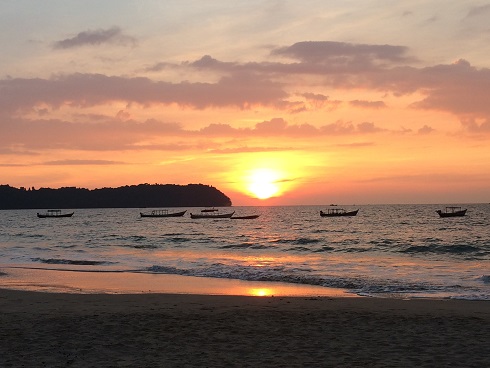 Ngapali offers everything you could want from a beach destination: miles & miles of wide white sand beach, clear blue sea, discreet low rise upmarket beachside resorts and plenty of local restaurants. It seems to have reached the sweet spot whereby the good facilities allow you can relax in comfort but development hasn't ruined the reason you visit. The most active part of the day will probably be watching the fisherman bringing back their catch, but if you want to explore more there are snorkelling trips to outlying islands, you can rent a bike or perhaps hire a car and driver to explore the largely undeveloped bays that form a ribbon down the coast.

Closer to Yangon you'll find Ngwe Saung offering the obligatory white sand, palm fringed beach that stretches over 10 miles with just has a sprinkling of beachfront hotels and local seafood restaurants. As with most beaches in Myanmar the strip of sand is not exclusive to sun-worshippers, it's great for people watching whether it be children walking to school, ladies on the way to market or fisherman bringing in their catch. If you'd like to explore a little more you can also visit small fishing villages and local markets, explore the countryside by bike or enjoy a boat trip to the outlying islands for snorkelling days out. With a beer in hand as the sun sets, you can't help but reflect that life's not bad.
---
Cruise the Irrawaddy River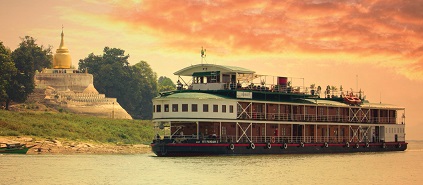 One of the "Great Rivers" of the East, the Irrawaddy has a timeless, somnolent quality that's hard to find in an increasingly managed world.

Bisecting Burma, it rises amongst Himalayan glaciers and flows freely for over 1,300 miles across a wide alluvial plain before slowing down and branching out through the delta into the Indian Ocean. Like many great rivers it feels like a constant companion as you travel across the country and can be explored by day cruiser or extended stay on a luxury river boat.

The most popular route is to follow it all or part of the way from Yangon to Mandalay via Bagan, but perhaps the most exciting opportunities lie further north as it takes you into parts of the country that are much harder to reach and so all the more fascinating for those who make it.

Whichever way you choose to enjoy the Irrawaddy and her sister rivers, there can be few better ways to watch local riverbank life play out as it's done for centuries past. Tiered golden pagodas, rambling teak monasteries, thatched stilted villages, families in dugouts, local ferries heavily laden with passengers and cargo and fishing canoes that bob between ridged sand banks all form part of the rich back drop from your perfect moving viewing platform.