The holiday includes a walking tour of Hanoi, lunch and water puppets show but if you'd prefer to see a bit more by bike or escape the city completely and explore the the Red River Delta below are the details and the supplement to change. There is also the chance to add a private Street Eats & Market tour to explore Hanoi's thriving street food scene.
Cycle to Local Legend's Restaurant - Ptas Mae Lorn - Extra £16 per person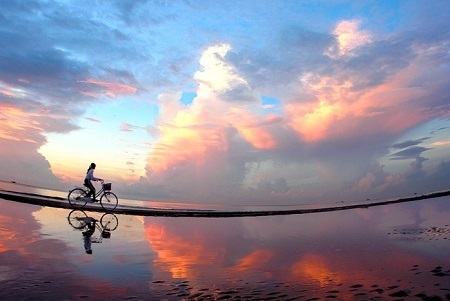 Instead or walking round the city why not take a more informal active approach and explore by bike with your private guide.
Hop-on your bike and begin your cycle from your hotel heading out of the hustle and bustle of the city. This cycle journey will take you through the stunning countryside, you'll pass through a local village meandering along the vibrant green rice paddy fields, enjoying the beautiful scenery along the way. You will have plenty of opportunities to stop for photos adding to your special memories before reaching a local restaurant called Ptas Mae Lorn (Mother Lorn's House) where you will meet with our local legend named Khun Salorn who specializes in cooking local dishes that have been passed down through her family from many generations. Listen to her fascinating story before enjoying meals cooked by her. From here cycle back to your hotel. Arrive mid-afternoon. Total cycling distance approximately 20km and mostly flat.
---
Ancient Pagodas and Villages of the Red Delta Tour - Extra £53 per person
This morning you'll be collected by your private guide for a day exploring the ancient Pagodas and villages of northern Vietnam, seeing first-hand the unique culture of the Red River Delta. If you choose this option you will miss both included tours in Hanoi or perhaps add an extra night in Hanoi.
Drive two hours west of Hanoi to the Thay Pagoda - the Pagoda of the Heavenly Blessing. Sitting at the foot of Sai Son Mountain, the complex is dedicated to the Thich Ca Buddha and dates from the 11th Century.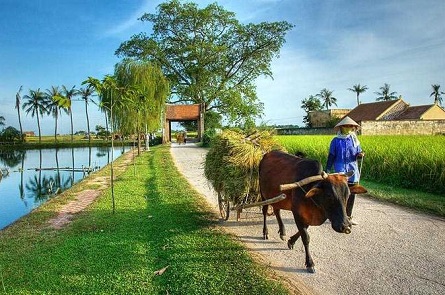 It remains one of the most important sites for pilgrims in Vietnam and is famous for its connection to the ancient art of water puppetry. Explore the ornate chambers and ancient courtyards, before making the short climb up the hill to enjoy commanding views of the countryside.
Continue on to Tay Phuong Pagoda. Dating from the 8th century, Tay Phuong has a long and distinguished history and has seen many incarnations. Rebuilt in 1632, the Pagoda is the perfect example of Sino-Vietnamese architecture. Hear the story of the ancient Vietnamese people of the Delta and discover the intricately carved wooden statues depicting the 5 stages of man. From here drive on to the ancient village of Duong Lam - the only village in Vietnam listed as a national heritage monument. Enjoy a traditional lunch at a local home, and spend some time talking to the villagers whose life has changed little over the years. After lunch, set off on two wheels on a cycling trip of the village. Pass by ancient temples and through narrow winding alleyways before transferring back to Hanoi late afternoon.
---
Street Eats & Market Tour - Extra £26 per person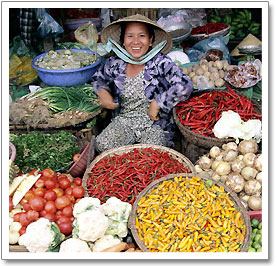 Early this evening (6pm) meet your guide for a tour that explores the flavours of northern street food amongst the alleys of the Old Quarter. Your guide will take you through a local night market, watching the bustle and array of goods on display, before setting off into the maze of alleys. Here stop at a famous pho stall to try this world renowned beef noodle soup, before grabbing a stool at a 'bia hoi corner' where you can try the local brew while watching the busy streets of Hanoi's Old Quarter. Bia Hoi is a draft beer that is brewed daily and usually drunk by locals sat on small plastic stools.
Continue through the bustling old quarter and listen as your guide tells you about the various foods on offer. Stop and try some local delicacies such as savoury steamed rice rolls with wood ear mushroom and pork before you head for a Vietnamese style barbeque dinner. Here your guide will select an array meats, tofu and vegetables on skewers while you sit down as they flame grill the food for you. Dessert will be fresh tropical fruits over shaved ice, drizzled with condensed milk as a perfect way for Hanoians to finish off a street food evening. Finishes approx. 9pm.
---