Whilst in Mai Chau we have included a full day tour exploring the beautiful valley. The 2nd day is left free as you may like to take a break from touring, relax and enjoy the lodge's beautiful setting, swimming pool and sun beds. Mai Chau is the perfect place to experience rural Vietnam in a remote setting and so below are a selection of extra tours & experiences you may like to add.
Mai Chau Kayaking Half Day Tour - Extra £20 per person
There are many ways to take in the beauty of the Mai Chau valley, one of which is to take to the water.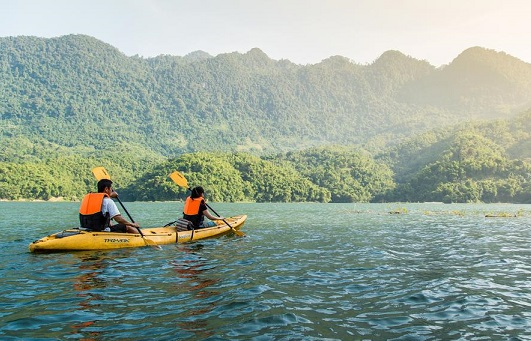 Start with a short ride to Bai Sang where you begin your kayak journey to Pho Moi Village. Sit back and gently float down the river, taking in the beauty and majesty of the surrounding limestone hills looking out for local river life. A lovely informal way to see more of the countryside and villages.

Depart at either 8:00 am or 1:30 pm
8:00 am / 1:30 pm - Board the bus to Bai Sang
9:30 am / 3:00 pm - Start kayaking
11:00 am / 4:30 pm - Kayak to Pho Moi village where you'll stow your kayak
11:30 am / 5:00 pm - Transfer to Mai Chau Lodge
---
Handicraft Bike Tour with Local legend - Extra £17 per person
This morning you head out by bike with guide to cycle around the local villages along largely quiet & flat local roads. Stop at a Thai textile workshop and meet the owner Ms. Thuan to listen to her life story and how her workshop helps the disabled people (and others) in her village learn skills and become self-reliant. She is also passionate about keeping traditional Thai textile weaving alive. You'll have chance to learn a little and try out traditional fabric embroidering and dyeing. Cycle back to the hotel in time for lunch. The tour takes approximately 4 hours and it suitable for anyone who can ride a bike.
---
Cooking class at Mai Chau Lodge - Extra £15 per person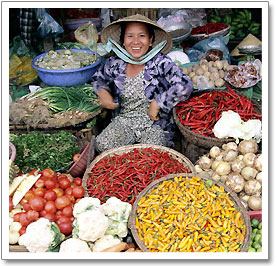 Working ones way through Vietnam's vast and varied cuisine is one of the many joys of touring, you won't believe how many different style of spring rolls there are! Today you can join in with the in-house cooking course, attempting to recreate a few authentic Vietnamese dishes.
Your day starts bright and early with a visit to the local market to source the necessary fresh ingredients that are sold daily by the Hmong community. Your chef / guide will show you round the market pointing out some of the more unusual (to us) produce.
Back at the Mai Chau Lodge the chef will instruct you in creating a variety of dishes with the produce you've bought. A fun, informal morning that has the added bonus (hopefully) of enjoying the fruits of your labour. Finish around 12.30.
---