Siem Reap is not only the gateway to the magnificent Angkor Archaeological Park but also to Tonle Sap Lake, the largest in south east Asia, community projects and outlying temples. Below are a selection of excursions that can be added to your holiday.
Sunset on Angkor Thom's Moat (Private) - Extra £18 pp
This can be added to the end of any day. Return private transfers included.
Why not take advantage as the sun sets over temple town by taking an early evening gentle river punt. Your local boatman will gently row you down the moat, beer in hand as you take in the wonders of your day.
---
Half Day Tour to Banteay Srei & Banteay Samre Temples (Private) - Extra £53 pp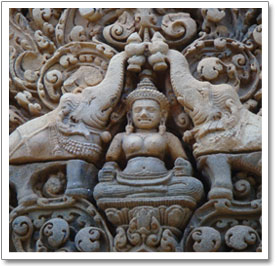 This could be added to afternoon of arrival or morning before you leave. A great way to see a bit more of Angkor Archaeological Park.
This morning (or afternoon)you head a little further into Angkor Archaeological Park to visit Banteay Srei and Banteay Samre. These exquisite examples of Khmer history are a bit off the beaten track with fewer visitors and so all the more enjoyable to explore. Banteay Samre's name is derived from the Samre people who live to the east of the baray and according to legend the temple was named after a farmer who killed the king and ascended to the throne.
The half hour ride also offers an insight into everyday life as you pass through villages. Look out for sugar palm kilns, scarecrows that keep evil spirits at bay and paddy fields that carpet the land.
---
Evening Trip to Traditonal Circus (Private) - Extra £23 pp
The circus performs nightly in a big top in the centre of Siem Reap and can be added to any day of the holiday. Return private transfers included.
One evening why not include a trip to the circus that plays nightly in the centre of town. This is organised by the NGO Phare and aims to assist poor and handicapped children gain education and livelihoods. The circus mixes traditional acts with theatre, music, dance and acrobatics. More than a show, it's a joyful celebration of Cambodian culture.
---
Kbal Spean walking Day Tour & Banteay Srei Temple (Private) - Extra £37 pp
This will appeal to those who would like to explore a more natural setting with less formal temple viewing. Would replace Khmer Community Village & Tonle Sap Lake tour.
Your private guide will take you for an hour's easy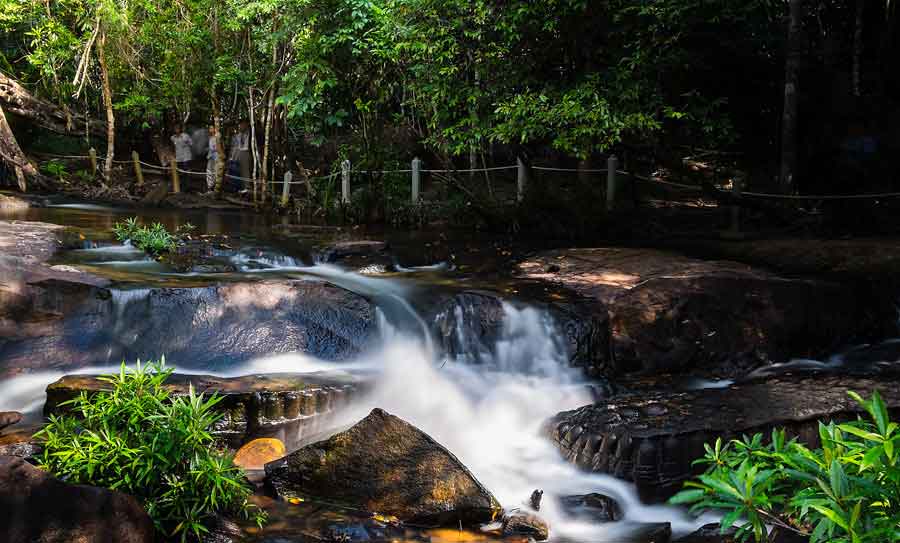 walking up the wooded slopes of the Kulen Hills, past waterfalls and archaeological ruins to the carvings of Kbal Spean. The carvings start on a natural stone bridge and take the form of linga, the phallic representation of the Hindu God, Shiva. There is said to be 1000 of these carved into the stone and from the bridge they spread out and take the form of various gods, beasts and effigies. They finally end at a waterfall that is called Royal King's Bath. The religious and mythological symbols were carved to sanctify the water as it tumbled down the hill to the people below.
Lunch will be in a local restarant in Siem Reap and then this afternoon you head into Angkor Archaeological Park to visit Banteay Srei, "Citadel of the Woman". Built using stone with a delicate pinky hue it has some of the most intricate and best-preserved carvings in Angkor. Back late afternoon.
---
Morning Tour of Beng Mealea (Private) - Extra £63 pp
Beng Mealea Temple is about 60 kms from Siem Reap and offers a contrasting experience to the main temple viewing in the park. Slightly off the main tourist trail you will also get to see a little more of the countryside. This could be added to afternoon of arrival or morning before you leave.
Your guide will collect you at around 7am (or 2pm) for the private guided half day tour to Beng Mealea. A mystical and secluded temple that's not heavily visited due to its relatively remote location, it attracts the more adventurous who want to see a temple left to nature. The majority of the temple has now collapsed but has adequate wooden walkways that weave their way through the remaining structures. Still largely submerged in lush vegetation, it's similar in structure and design to Angkor Wat.