Bangkok tops or tails most holidays to Thailand. An urban junkies dream, the city takes you through a kaleidoscope of contradictory sights and experiences. Golden royal palaces and glittering temples vie for sunlight with growing modern edifices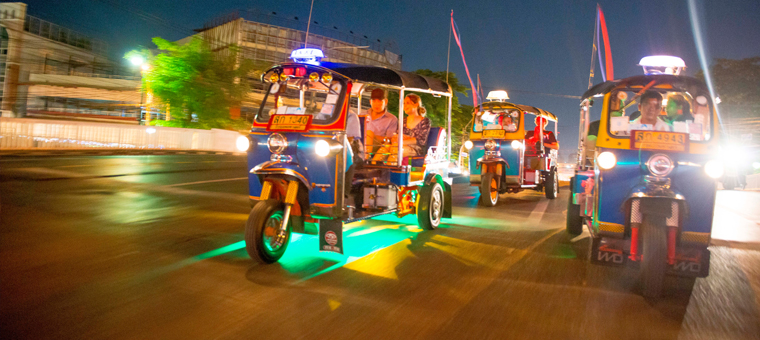 frenetic local markets resist the influence of luxury shopping plazas and street side eateries rub up against uber cool bars and nightclubs. Every taste is catered for in an intoxicating juxtaposition between ancient and modern.
How long do I need in Bangkok?
We recommend at least a couple of days in the Capital and sightseeing highlights include a morning tour of the temples and palaces on Royal Ratanakosin Island. Here you'll find the magnificent Grand Palace, Wat Pho - the temple of the reclining Buddha, the largest Buddha in Bangkok and centre of the Buddhist religion in Thailand and the Wat Phra Kaew, home of the Emerald Buddha, Thailand's holiest religious statue carved from jade.
A morning must...
Another morning (or evening) must is Wat Arun, meaning the Temple of the Dawn, at its most spectacular in the early morning as sunlight reflects off the river. Pre-dating Bangkok, don't miss the chance to combine your visit with an exhilarating ride on a long tail boat along the network of klongs (canals) that used to be the lifeblood of the city.
Bag a bargain...
For those inclined,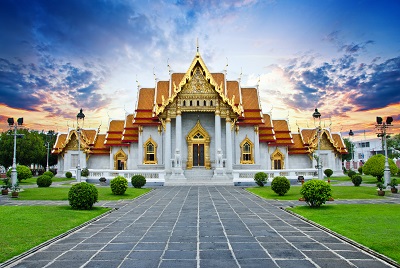 your days can be filled with superb sights, but don't neglect everyday life with its markets, superb shopping and the best street food in the world. A great place to experience all this is Chatuchak weekend market, in the northern suburbs. 15,000 stalls bring together goods from all over Thailand in one huge, hectic and hot location. Bring a selection of small notes and try and bag yourself a bargain.
Tour by bike or train...
Another great way of getting under the city's skin is quite surprisingly to take a bike tour. We can offer a selection of easy rides that will take you away from the car choked main roads down the byways to the forgotten green areas of Bangkok to experience hidden real city life.
Or take a train out of the city to the Gulf of Thailand to see Bangkok of yesteryear, with its tranquil canals, old forts, quirky train market, charming floating markets and the chance to plant mangrove trees to help maintain this delicate ecosystem.
The great thing about Bangkok is that no matter how many times you visit there's always something new or something you missed on the last trip. When putting together a holiday that includes Bangkok we start with a clean slate, creating an itinerary that takes into account whether you've visited before and what particularly interests you. Whether you just want a quick taste or total immersion, Bangkok won't disappoint.