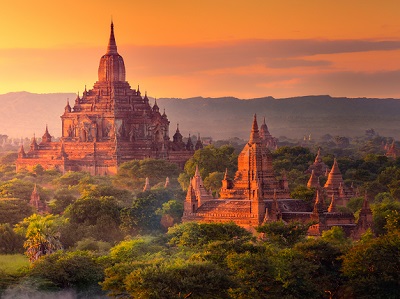 As the largest country in South East Asia, with every kind of landscape from Himalayan foothills to river deltas, Myanmar doesn't have a one size fits all forecast. But like most of South East Asia Myanmar's dry season generally runs from October to May and the wet season from May / June through to early October. Temperatures are greatly affected by altitude and degrees north therefore the hill stations, lakes and the Himalayan foothills are much cooler than the southern lowland and coastal regions.
Dry Season - October to May
On the back of the northeast monsoon the Dry runs from October to May. You will experience some rain in October/ November, but generally in short sharp afternoon showers that keep the temperatures down. This is a time of low humidity, wild flowers and less tourists so has a lot to recommend it.
December to February is the driest time and the heat starts to build up markedly through April and May until the rains finally break. Touring in April / May can be uncomfortable because of the heat.
If you're travelling up to Kalaw in the hills, staying on Inle Lake or Bagan you may need an extra layer in the morning and even a hat / coat on the lake as it can be chilly early and late but very comfortable during the day.
Wet Season - May to October
The southwest monsoon ushers in the Wet from mid-May onwards. Rainy days tend to have a few hours of heavy rain rather than being all-day downpours, though the latter does occur.
July through September are the wettest months and whilst travelling around the main sights during these 3 months is still generally OK, holidaying in the hills, mountains and on the coasts is not recommended. The dry zone including Mandalay and Bagan gets the least rain.
Our Month By Month Weather Guide offers more information and holiday suggestion. Alternatively please call as we'd be happy to discuss your holiday plans.