Battambang may not strike a chord and it was until recently off the main tourist map, but its popularity is on the rise as it boasts some of the country's finest French colonial architecture and is one of the best places to observe rural Cambodian life. If you go home only experiencing Angkor and Phnom Penh you may kick yourself, having essentially lived in a bubble, missing the real Cambodia.
The Real Cambodia
Just 2.5 hours from Siem Reap, Battambang can form part of your itinerary travelling round by car to Phnom Penh or used as a stopping off point to or from Thailand. During the wetter months you can also travel from Siem Reap by boat across Tonle Lake and through one of the country's best wetland reserves.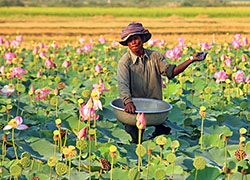 Once you've enjoyed the colonial town head out to the countryside and you'll find a land flashed in the electric green of rice paddies lined with the requisite sugar palms and dotted with stilted wooden houses shaded by coconut palms all framed against distant hills to create picture perfect postcard settings. There is even a vineyard at which you can sample some local wine.
Don't miss these 'must sees'
"Must-sees" include the Phnom Banan, an 11th century temple built by King Jarvarman VII. Located on top of a 400m hill, there is a beautiful view of the surrounding countryside.
Close by Phnom Sampeau Mountain is a natural rock formation again boasting fantastic views and home to the "Killing Caves", a cavern in which a golden reclining Buddha lies peacefully next to a glass fronted memorial filled with the bones and skulls of victims of the Khmer Rouge who were beaten to death and thrown through the overhead skylight. Battambang also boasts one of the most unusual but enjoyable experiences: the Bamboo railway.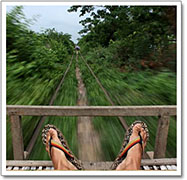 Strap a motorboat engine to a light metal frame with bamboo laths running lengthways and you have a bamboo train. An ingenious way of making use of the single railway line, you will be transported on a track that winds through beautiful countryside, twisting and dropping in every direction. If you meet someone coming the other way, the lightest has to be lifted off the track to allow the other through. A unique and memorable experience, although not a cultural high it may still be one of your favourite holiday experiences.
Finally if you do visit, try to be here on a Thursday evening and you can participate in a circus that gives children from deprived backgrounds the opportunity to channel their energies creatively, learning skills such as juggling, tumbling, acrobatics and clowning whilst raising public awareness of issues such as HIV/AIDS, landmines, and child rights. From simple drawing workshops for children in the camps, the idea emerged of an association that would use art and expression to help young refugees overcome the trauma of war.