Phnom Penh, once "The Pearl of Asia" has fought its way back from the ravages of genocidal war.
The city is not a shiny Asian capital, which only adds to its allure, as it maintains an authentic face and character that you have to dive into to truly appreciate.
There is a rediscovered confidence that is reflected in the new hotels, art galleries, designer shops, restaurants and bars that are showing off and celebrating local style and culture.
Take in the city by tuk tuk
A great introduction to the city is to take a tuk tuk to the riverside promenade that is especially popular in the evening. As you walk along the Mekong look across to the French colonial buildings that are interspersed with the Royal Palace, Silver Pagoda and National Museum.
Evening is the time everyone congregates along the wide promenade with some impromptu aerobics, football matches and time to catch up with friends. There are plenty of restaurants and bars along the way.
City tour highlights can be fitted in a day and include the National Museum, home to the finest collection of Khmer sculpture, the fascinating Royal Palace built in 1866 by King Norodom and an oasis of calm amongst the city, the Silver Pagoda in the same complex and finally the Central and Russian markets for silk, t-shirts, jewellery and pottery.
A poignant reminder to Cambodia's past
In the afternoon continue on to the Tuol Sleng Genocide Museum, a school that was turned into prison and torture centre and now forms a sobering and poignant reminder to the bloody past, as torture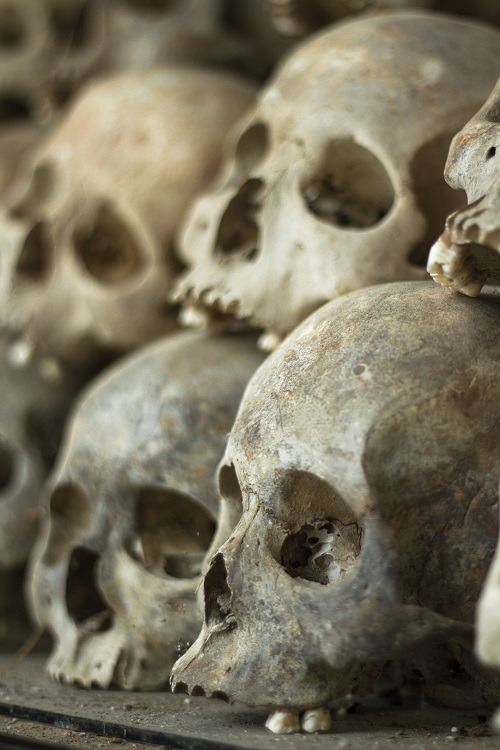 devices still sit in empty rooms and haunting photographs of the victims stare out from the walls.
About 14 kms out of the city you'll find the Killing Fields of Choeung Ek, where over 17,000 people were killed. This is commemorated by the 13 storey high memorial filled with 8,900 skulls arranged in order of age and gender
Away from touring, if you're interested in local designs and artwork that are a bit more exclusive than those found in the markets, make time to explore the side streets, especially Street 240 where you'll find many up and coming designers and artisans, as well as less touristy restaurants and bars.