Sihanoukville has for some time been the closest that Cambodia has had to a mainstream tourist resort, but it is currently at the heart of a massive reconstruction project, so if you're staying for more than a couple of nights we'd recommend that you head to the outlying island that now have some very good hotels and offer the beautiful beachside settings surrounded by clear tropical seas. Snorkelling and limited diving can be enjoyed.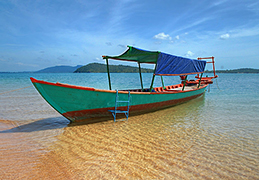 Beach Time...
Sihanoukville's big attractions are the four beaches that ring the headland, but some areas looking a bit rundown with litter problems. With this in mind we feature only one hotel on the best beach to try and avoid some of the pitfalls experienced in any developing resort.
Sihanoukville is surrounded by beautiful countryside and there are some great day tour options. These include Ream National Park, where you can explore the mangrove forests by boat, Kbal Chhay Waterfall, perfect for an afternoon picnic and refreshing swim or Kampot, the important port during French occupation and now a small riverside town with a faded colonial appeal and the best pepper in the world.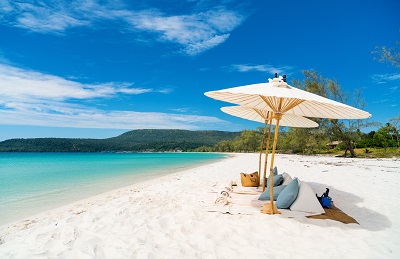 Those who have more than a couple of days to spend on the beach should head out to one of the many small islands that sit less than an hour off the coast and now boast a wide range of hotels from simple ecolodges to super luxury resorts on their own private islands. Perfect for beach bums and nature-lovers alike, whichever you choose you'll find powder soft white sand beaches and warm tropical seas. If you'd like to explore further there will be a range of snorkelling and diving tours that can be added locally.
The coast is also a good option for a week's touring with a private driver incorporating a day or two in Sihanoukville, Kompot, Kep and 4 Rivers Floating Eco-Lodge, before returning to Phnom Penh or continuing on through Thailand or Vietnam depending on the direction you travel.