Come to see Angkor and you'll stay in Siem Reap, just a 15 minute drive away. The town is growing fast and you'll have to dig a bit to find any authentic charm, but it is home to a fantastic range of hotels, restaurants, bars and cafes that will suit every mood and budget.
Choose the perfect itinerary for you...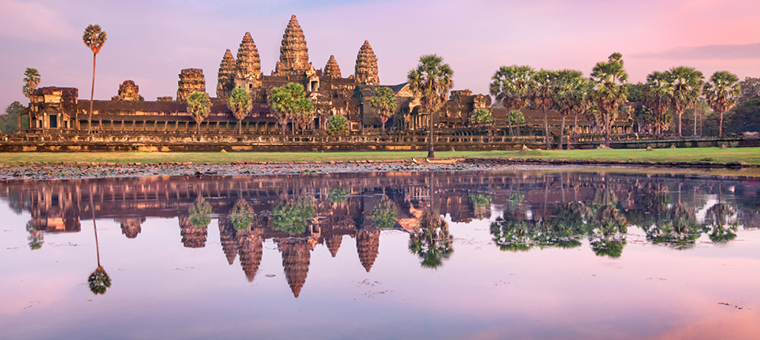 Most clients stay at least 3 nights, which allows time to either have 2 days with a private guide exploring the magnificent temples or perhaps one in the park and the other visiting Tonle Sap Lake, walking in the hills or visiting a community project. The choice is yours.
The Angkor region is one of the hottest areas of Cambodia and so most tours into the park start relatively early, have a good lunch break away from the heat and then return mid-afternoon, so you'll also enjoy the sun setting over the temples. The early morning and late afternoon light also picks out the detail of the bas-reliefs, bringing the temples alive.
When you enter the park one of the first things you notice are the magnificent massive trees that offer a superb backdrop to the temples. The park's protection has saved them from the deforestation that has scarred much of the country and adds to the allure of any visit, especially if you visit at dawn and listen to the jungle awake.
A private guide is a must...
Unless you're a noted historian a private guide is an absolute must, as they will not only bring the history alive, they will also offer local insight and know where and when to visit, so you avoid the worst of the crowds and see the temples in their best light. An added bonus is that the day can be totally tailored to you and adjusted on the ground as you get to know what you'd like to see. All our tours include experienced, professional guides based in Angkor. For most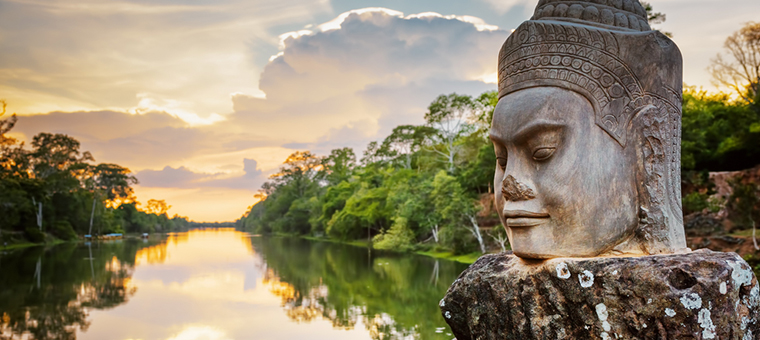 first time visitors we include what are considered the highlights, but essentially the tours can be built around you, perhaps taking in some of the lesser known temples.
Apart from Angkor Wat we would also recommend the walled city of Angkor Thom that includes the Bayon, Terrace of Elephants and Terrace of the Leper King. Ta Prohm is great in the stillness of dawn and further out Banteay Srei, Banteay Samre and Pre Rup are often cited a favourites.
There are a multitude of temples to visit and to the right there are some example itineraries to whet your appetite. Please call us to discuss the options available.