Much of the nation's psyche is connected to water and Tonle Sap Lake is at the centre of Cambodia's existence. Indeed Cambodia is a country of water and rice fields, the rhythm of life follows the alternation between dry and rainy seasons. The symbolic nature of water is essential in Khmer culture and is represented by the mythical serpent Naga, the source of life, fertility for the land and therefore prosperity. Tonle Sap is an integral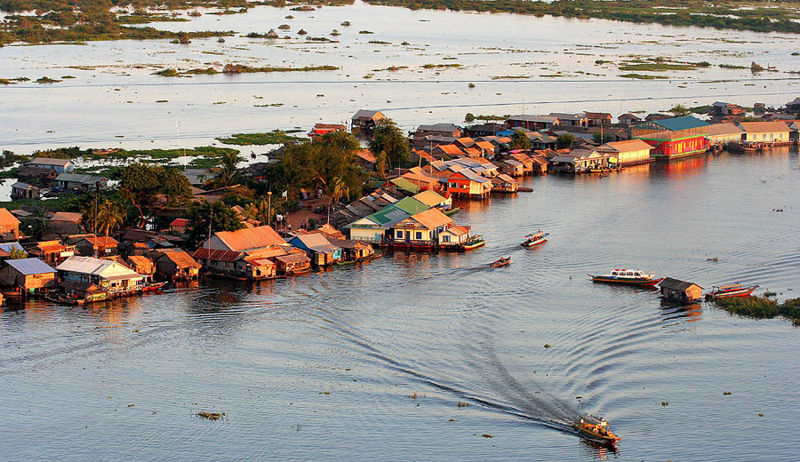 part of this system bringing together nature, culture and human life.
Exceptional biodiversity
The lake, through a unique phenomenon, quadruples in size during the rainy season to more than 7% of Cambodia's total surface area and is the largest in South East Asia. Around May and June the monsoon rains pour so much water into the Mekong River that it briefly forces the Tonle Sap River to flow backwards, swelling the lake to more than four times its normal size. These successive rises and falls create an exceptional biodiversity and a fascinating environment in which to live and visit on holiday.
Siem Reap offers easy access to the lake and a range of day excursions explore the floating villages, stilted homes, sunken forests and wetland parks.

The lake also offers access to other parts of the country. One of the most popular trips is to take a small boat across the lake, through a wetland reserve to Battambang, Cambodia's 2nd city and one of the most scenic places to explore rural Cambodia.

Travel further and you can cruise the length of the lake and down the beautiful Tonle Sap River to Phnom Penh. This is the perfect opportunity to observe river life and experience Cambodian culture away from the big cities. Keep going and you meet the Mekong and can cruise all the way to Saigon in Vietnam.