Trading has been the lifeblood of Sri Lanka for hundreds, if not thousands of years and Galle developed into a trading titan, reaching its peak in the 16th-18th century when first the Portuguese then Dutch and finally the British realised its worth to create the best example of a fortified city built by Europeans in South and South-East Asia.

Galle - UNESCO Walled City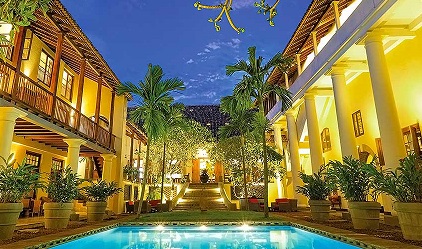 Today Galle stands out as a unique destination that's definitely worth including within your itinerary whether it just be an afternoon stop-off or a couple nights. What makes it unusual is that where the mighty walls once held back invaders they now hold back modern Sri Lanka and its accompanying traffic, noise and life. As soon as you pass through the walls it's like someone's turned down the volume and transported you back to Europe.
Don't worry it's not Disneyfied, it's an authentic walled city (town) whose narrow low-rise streets have seen plenty of recent investment and now boast beautiful boutique hotels that were once Dutch-period villas, galleries, shops, restaurants and cafes. There are several museums as well as the Dutch Reformed Church and Arab Quarter. Finish the day watching the sun set into the Indian Ocean looking out from the sea ramparts and you're day is done.
Those who've enjoyed Sri Lanka's wonderful wildlife on land may also be interested in including a choice of dolphin / whale watching tours that can easily be added to your stay in Galle.
This isn't a place to hurry, but rather somewhere to take a break from formal touring, gather your breath for the next holiday section and enjoy the atmospheric and nostalgic streets that make you realise how important and profitable trading has been for Sri Lanka through the ages.