5 hours from the high Tea Country and just 1 hour from the southern beaches, Udawalawe National Park is a 119-square mile wildlife sanctuary focussed around a large reservoir and the Walawe River in the south eastern corner of Sri Lanka.
Elephants Set Amongst Undiluted Beauty
Like Minneriya to the north this is a fantastic place to see elephants that thrive in the dry, hot environment. Even if elephants are not your thing is worth visiting because of its undiluted natural beauty.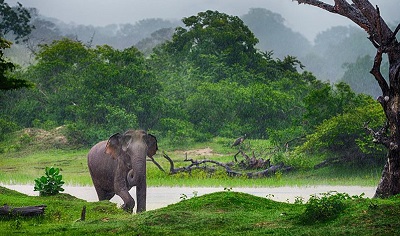 As you enter the park by jeep the scrub abounds with sandy paths veering off in every direction. You won't be the only visitor, unless you're incredibly lucky, but it's far quieter than Yala to the south. From here the guide will search for elephants and you'd be unlucky not to hit the jackpot within the first 20 minutes.
However the park is more than this and was established partly to aid the conservation of rare birds such as the white wagtail, black capped kingfisher and serpent eagle. Peacocks, mongoose, owls, bee-eaters and lizards abound and as you get your eyes in synch with the guide's more and more comes into focus. Leopards are rare, but you may be very lucky spotting one warming itself on a rocky outcrop. for the elephants.
The jeep continues a lazy meandering route down towards the reservoir and as the afternoon sun starts to dip you get a sense of why the park is so special. Framed by distant highlands on its northern boundary, buffalo and elephants wade in the shallows, crocodiles just about show above the surface amongst painted storks and pelicans, whilst fish eagles circle high above. A magical place especially if you can persuade your driver to find a quiet corner, turn off the engine and just watch nature parade in front of you in all its glory.
Elephant Transit Home For Orphans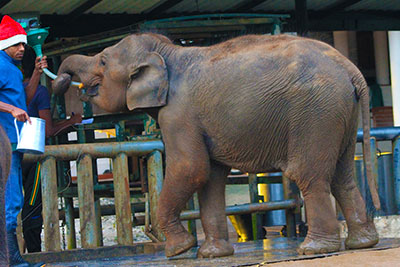 Ahead of visiting Udawalawe you'll probably stay at Kalu's Hideaway and just 10 minutes from here you'll find the Elephant Transit Home, which is worth visiting at feeding times. Established in 1995 with the primary objective of the rehabilitation of orphaned baby elephants and their release back to the wild, there's no riding or real interaction with the babies, just the pure joy and anarchy of feeding time. The elephants are largely free to wander around the grounds of the home and because it's just across the lake to the national park it's a much easier transition when they're ready to join the herd.