Think of Sri Lanka and elephants immediately come to mind and Minneriya National Park is the best place to see these mighty beasts in large numbers. This is especially true from June to September when water is scarce and elephants congregate to enjoy the lush grassland that springs up in the reservoir (built in 3rd Century BC) as its water recedes. This annual event, often called the Great Elephant Gathering, is the largest meeting of Asian elephants anywhere in the world. Herds of up to 300 are seen at this time, but at all times of the year this is a good place to head to see a pachyderm or two.
Minneriya National Park - Elephant Rich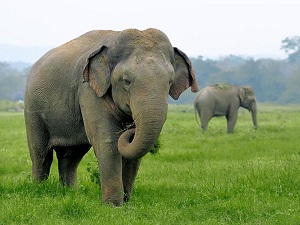 The chance of seeing plenty of elephants is further enhanced by the close proximity of Kaudulla and Wasgomuwa National Parks that together with Minneriya form an elephant corridor along which they travel. Your local guide will keep up-to-date with the movements and adapt the jeep safari so your travel to the most elephant rich park.
Minneriya consists mainly of grasslands, evergreen forests and the wetlands that are the crucial as dry season feeding grounds. Aside from elephants the parks excellent water supply supports a wide range of animals including mugger crocodiles, sambar and spotted deer, buffalo, monkeys, mongoose, lizards and the rarer sloth bears and leopards. Like in all Sri Lanka's national parks, bird life comes in all sizes and colours from the small iridescent green Bee-eater to the magnificent Fishing Eagle, you'll be spoilt for choice - binoculars and keen eyes are essential. Early morning is best for bird sightings, and late afternoon for the elephants.
Minneriya is also perfectly placed in the Cultural Triangle, so you can combine more formal excursions to Sigiriya Rock and ancient city of Polonnaruwa with a jeep safari that will often be your first taste of rural Sri Lanka and no doubt leave you wanting more along the way.