South of Colombo, the west coast's beautiful long golden beaches were the first to be developed and now form a ribbon of established beach resorts that offer a fantastic range of luxury beach hotels with good water sport facilities.
West Coast Beach - Something For Everyone
One of the first you'll reach is Wadduwa, a very quiet ribbon of sand backed by coconut groves to create a luxury hideaway feel. The town is also well known for Ayurveda treatments, meditation and yoga.
The best known resort area is Bentota just an hour and half south of Colombo. The more lively northern section is a strip of beach that backs onto a lagoon that's perfect for water sports,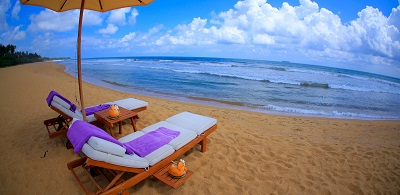 whilst in the south you'll find peace and quiet with a selection of beach hotels and villas. Many of these were designed or influenced by Sri Lanka's celebrated architect Geoffrey Bawa, who developed a tropical modernism style based on Sri Lanka's multi-ethnic traditional and colonial influences. Bentota may be a mature beach resort but you'll be amazed how quiet and authentic the beach is.
If you'd prefer a little less cosseted isolation then continue south to Balapitiya a traditional fishing village with a golden beach. The added attraction is that it sits on the Madu Ganga River estuary that joins Randombe Lake to create one of Sri Lanka's biggest wetlands. This vast swathe of densely-forested mangrove swamp interspersed with 64 islands makes a wonderful home for wildlife, especially birds and is the perfect place to enjoy a river safari.
Alternatively head north of Colombo and you find the beautiful Kalpitiya Peninsula and idyllic Alankuda Beach, a relatively undeveloped beach destination. The waters play host to schools of dolphins throughout the year making it the country's premier dolphin-watching spot with regular boat tours, whilst the constant strong winds are ideal for kitesurfing. Another drawcard is the cluster of eco-resorts dotted along the coast that are a world away from the glitz and glamour of those further south, each with their own individual character and rustic appeal.
These are just 4 examples of West Coast beach resorts, best visited from December to March and June to August.