Not as famous as Nuwara Eliya, but the Hatton is perhaps Sri Lanka's most beautiful tea growing area. The landscape has a softness to it, as the perfectly manicured tea bushes follow the folds of the gently undulating hills and the narrow roads forms ribbons that reveal one majestic vista after another, whether it be the tree studded estates, the tea pickers hard at work or lake views.
Magnificent Vistas & Historic Estate Bungalows
No large hotels, instead you're treated to a range of century old British tea estate managers' bungalows that have been largely restored to their former glory. This only adds to the atmosphere and feeling that you've been transported back to the 1920's.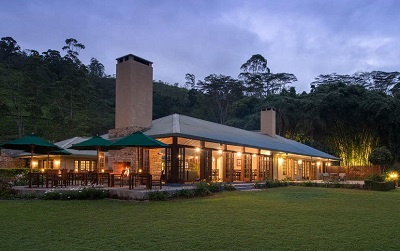 Top of the pile are the historic houses that have been impeccably restored by the Dilmah Tea Company. Each of the 5 bungalows is exactly as you imagine a colonial tea plantation bungalow to be, with parquet and dark wood floors, open fire places, wide verandas that lead out to landscaped gardens complete with herbaceous borders and magnificent views across tea plantations. Not cheap, but if you're going to splurge they won't disappoint.
Whilst here you can hike through the estates from one bungalow to another, enjoy lunch, then either walk or be transported back. To see how tea travels from bud to drinkable leaf you can enjoy a tour of the estate's tea factory. If you're feeling more energetic mountain bikes are available and white water rafting is just an hour away. The ultimate for the energetic is to climb Adam's Peak, one of Sri Lanka's highest peaks and famous for Buddha's footprint near the summit. Starting at 2am the climb takes approx. 4 hours so it's timed that you enjoy sunrise at the peak. Return in time for late breakfast. However we wouldn't recommend you plan too much as the pure joy of staying somewhere like this supersedes everything else.