The sheer joy of coming on holiday to Sri Lanka is irrepressible, as there are few places in the world where so much is squeezed into such a small area. Variety and size is the key in making this a touring mecca, allowing you to accomplish any holiday wish list without being physically and financially exhausted!
Sri Lanka really does have it all: stunning scenery, an abundance of nature on land and sea, depth of culture, tropical beaches, temperate hill stations, vibrant capital city, ancient & colonial history and plenty of soft adventure; all within a day's ride with your private guide and tied together with an authentic charm and grace embodied by everyone you meet.
This variety makes is an ideal tailor made holiday destination as no two holidays need to be alike. Our website is designed to whet your appetite rather than be prescriptive. Please use the featured holidays as a starting point, there's no group commitment so each is totally flexible as can be tailored to your interests, time frame and budget.
---
The Starting Point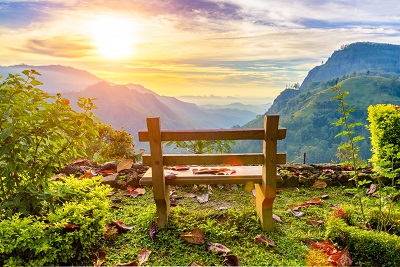 All holidays start in Colombo airport and spending 24 hours in this increasingly cosmopolitan city will offer an easy and entertaining introduction to Sri Lanka's rich cultural heritage and food nirvana.
However there are other choices that offer a gentler start (or end) to the holiday. If you're drawn to a beach then Negombo is perfect, just 30 minutes from the airport and boasting wide sand beaches and a selection of resort style hotels. One night will generally be enough before stating your tour as further riches await.
Alternatively head inland to one of the many boutique hotels that sit amongst coconut plantations or farming countryside just an hour inland. One such example is the Horathapola Coconut Estate, a beautiful boutique hotel with plenty to see and do and offering a gentle introduction to Sri Lankan life.
---
Touring Highlights
Cultural Triangle
The most popular starting point for a first time visitor to Sri Lanka is to head 3 hours inland for a few days in the Cultural Triangle, Sri Lanka's historic heartland. With 4 UNESCO World Heritage sites and a National Park awash with elephants you could just base yourself here for your entire holiday.
Highlights include:
• Minneriya National Park: The best place to see elephants in large numbers by jeep safari
• Sigiriya: Climb the 370-metre citadel to see how the iconic "Lion Rock" dominates the surrounding plains
• Polonnaruwa: Sri Lanka's 10th century 2nd capital is now a beautifully preserved archaeological park
• Kandalama: Beautiful lake that draws in animals incl. elephants & balloon safari starting point
• Anuradhapura: Sri Lanka's 1st capital flourished for 1,300 years and some temples are still in use
• Dambulla: Sri Lanka's greatest cave temple complex in use for over 2,000
Kandy & Tea Hill Country
Move south from the Cultural triangle through Dambulla and climb up to Kandy, the last royal capital, sitting high in the hills, a natural fortress in the heart of Sri Lanka. At Kandy's heart is a large lake and here you'll find the complex of temples with the Temple of the Tooth as the centrepiece.

Where to next? If you're heading up the tea country there's the option to take the train that runs all the way to Ella, high in the hills and offers the best views of the tea estates, forests, paddy fields and village life. Alternatively if you'd like a little soft adventure Kitulgala boasts white water rafting on the majestic Kelani River.
Where to stay in the Hill Country? First up is Hatton, perhaps Sri Lanka's most beautiful tea growing area. No large hotels, instead you're treated to a range of century old British tea estate managers' bungalows that are now luxury boutique hotels.
Just a little further on is its famous bigger brother, Nuwara Eliya, synonymous with Sri Lankan tea and tea bushes seem to cover every square inch to create mile upon mile of perfectly manicured tea terraces. These images fill brochures and a tour or walk through an estate is a must.
Nature & National Parks
Sitting comfortably beside all the culture, history and man-made beauty, Sri Lanka can boast a range of National Parks rich in a world class variety of animals and birds. Add to this the chance to go whale and dolphin watching and a nature based holiday to Sri Lanka is hard to beat.
Gal Oya National Park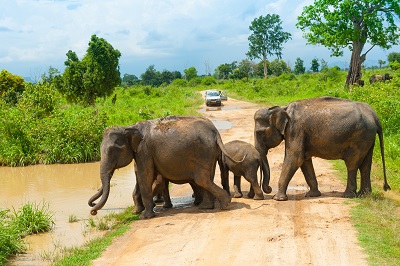 The least visited of Sri Lanka's many national parks, but as visitors look for less trammelled areas that offer more nature and fewer tourists Gal Oya stands out for its beautiful landscapes, abundant wildlife, atmospheric lodge and even the chance to spot a swimming elephant on a boat safari.
Minneriya National Park
Think of Sri Lanka and elephant's immediately come to mind and Minneriya National Park is the best place to see these mighty beasts in large numbers. This is especially true from August to September when water is scarce and the Great Elephant Gathering takes place.
Udawalawe National Park
One of Sri Lanka's most beautiful parks established partly to aid the conservation of rare birds, but elephants live here in good numbers. Take an afternoon safari to the lake as the sun starts to drop you get a sense of why Udawalawe is so special. Framed by soaring highlands on its northern boundary, buffalo and elephants wade in the shallows, crocodiles just about show above the surface amongst painted storks and pelicans, whilst fish eagles circle high above. As a bonus just 20 minutes away you'll find the Elephant Transit Home, established to rehabilitate orphaned baby elephants and release them back to the wild.

Yala National Park
Yala is the place to see leopards, but amongst the amazing range of habitats the park is teeming with an incredible variety of wildlife, including elephants, buffalo, crocodiles, sloth bears and diverse tropical birdlife.

Wilpattu National Park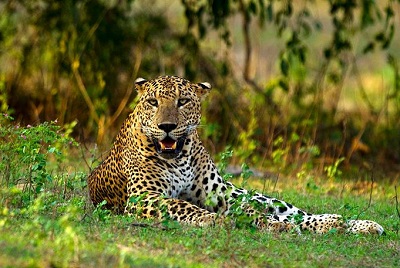 Wilpattu National Park (Land of Lakes) is well named, as the existence of over 60 natural water basins marks this park out as an area of special importance. They act as natural reservoirs during the annual drought, from May to September, and this is the best time to visit for animal viewing. Wilpattu remains largely off the beaten track and its wild, untamed nature draws in visitors who want to explore a park that hasn't yet been tapped by the luxury hotel market.

Sinharaja
This 8,800-hectare reserve is the island's last remaining area of primary tropical rainforest. A UNESCO World Heritage Site and designated Biosphere, Sinharaja's landscape of rolling ridges and valleys of dense forest, threaded with streams, pools and rivers is a perfect refuge for birds. With a hot and humid climate this is perhaps the most adventurous park to visit as all your senses come alive with the noises, sights and smells of the rain forest.
---
The Beaches
The beaches were the first things to bring tourists to Sri Lanka and whether you choose the East, South or West coast the choice can bewildering, but with such a selection, you're safe in the knowledge that there's a beach and hotel that's perfect for you.
West Coast Beaches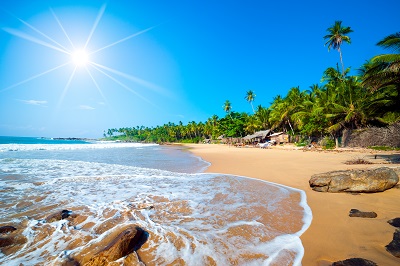 South of Colombo, the west coast's beautiful long golden beaches were the first to be developed and now form a ribbon of established beach resorts that offer a fantastic range of luxury beach hotels with good water sport facilities. Alternatively head north of Colombo and you find the beautiful Kalpitiya Peninsula, a relatively undiscovered beach destination. The waters play host to schools of dolphins throughout the year. The West Coast is best visited from December to March and June to August.

East Coast Beaches
The east coast remains largely undeveloped and offers the closest beaches to the Cultural Triangle. It's the perfect spot to head to during our summer as the dry season runs from April to September.
Trincomalee sits on one the world's finest natural harbours with a selection of beautiful town beaches and offers whale watching from May to October. Head slightly north and you'll find the quieter coastal communities of Uppuveli and Nilaveli whose golden sands are only just being developed. South offers Pasikuda Bay that offers safe swimming thanks to the gently sloping seabed. At the other extreme is Aragum Bay, a mecca for surfers, but other visitors choose to stay here to learn to surf, boogie board and enjoy the eclectic, casual atmosphere of the bars and cafes that front the beach.
South Coast Beaches
Running from Tangalle to Galle the south coast is the most popular beach destination during our winter months (November to April).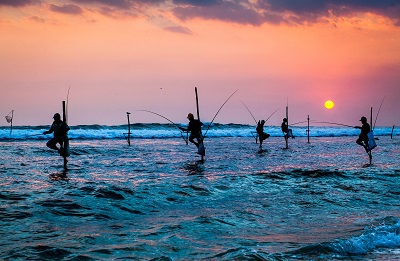 The continuous ribbon of bays offer a wide selection of hotels from large developments, through hideaway luxury resorts down to colonial style villas.
Tangalle boasts some of the most beautiful beaches in Sri Lanka backed by the bluest sea. Head east to magnificent Weligama Bay, with a wide sand beach covered with colourful fishing boats. Next door is Mirissa Sri Lanka's leading whale watching destination, including sightings of Blue Whale.
Continue west and you find the beautiful beaches of Koggala and Thalpe in perfect little coves with pockets of luxury hotels and very quiet beaches backed by coconut plantations and interspersed with fishing villages.
---