Cat Tien National Park (4 hours from Saigon) is arguably the best place to spot wildlife in Vietnam. The topography makes it ideal, characterised by a flat plain leading up to gentle hills, supporting a mix of forest, extensive swamps and other wetlands. It offers a varied and fascinating Vietnam Holiday experience, especially for bird lovers.
Park Life
Accommodation is based around the park headquarters with attractive bungalows surrounded by trees and bushes that attract a wide variety of birds.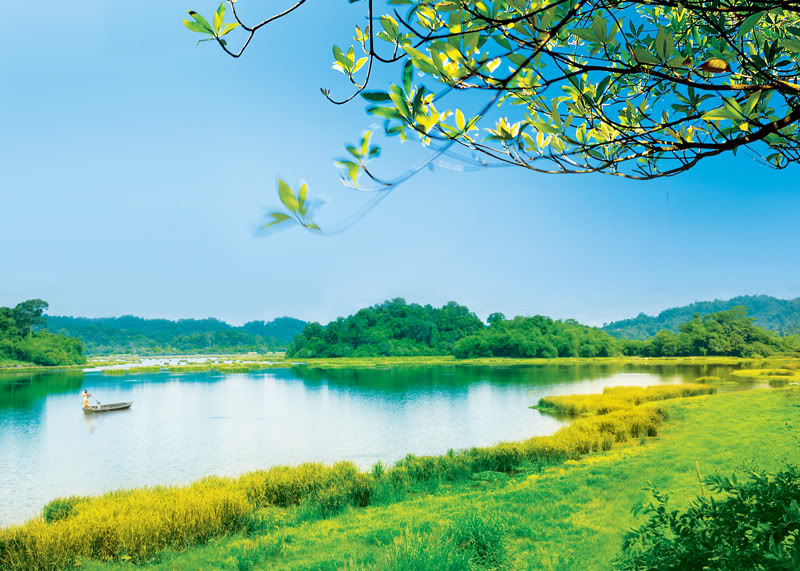 Most of the park mammals are best seen during night-spotting tours. You are likely to come across insect-hunting nightjars and some species of owl, such as the Brown Hawk Owl or maybe the enormous Spot-bellied Eagle-owl.
Early morning is when the park is at its most active during daylight and so excursions start early. Wild Boar live in the reedy areas that line the road, as do different species of small carnivore such as Common Palm Civet or Small Asian Mongoose. You are also likely to see larger species of birds, like the amazing Green Peafowl, impressive hornbills and possibly Woolly-necked Storks.
Don't miss crocodile lake
Don't miss Crocodile Lake, a good hike through the jungle where you are guaranteed to see wildlife.
There's a good chance of finding primates such as the Northern Pig-tailed Macaque or Black-shanked Douc Langur.
The hike ends at the lake's water hyacinth lined shore in which rare Siamese Crocodiles may be spotted, only the eyes and snout protruding. The ranger's lakeside observation tower, built on stilts, is a great place to stay and watch wildlife that come to the lake. In the evening Hornbills come to their sleeping trees, Sambar Deer sneak in to drink and Common Palm Civets look for food. If you're looking for an adventure paddle around the lake in a small boat. The night-spotting tour around the lake will reveal some true secrets of the jungle. Breakfast by the lake could reveal a Stork-billed Kingfisher looking for small fish while the rare Grey-headed Fish Eagle searches for bigger ones.
The National Park is also home to some animals that live in rescue centres near the park headquarters. You can see Asiatic Black Bears and Sun bears and different species of primates. Representatives of the centres will show you around and provide a fascinating insight into their work and the animals they care for.