In the northwest of Vietnam you'll find Sapa, the picturesque old French hill-station that nestles high in the Tonkinese Alps, beneath the shadow of the mist shrouded Fansipan Mountain, the highest in mainland SE Asia.
Head here and you'll be rewarded with not only some of the most spectacular scenery in the country, but also access to a region that remains relatively untouched by modern life and the gateway to superb trekking, ethnic hill tribes, markets and world class vistas.
Spectacular scenery, untouched by modern life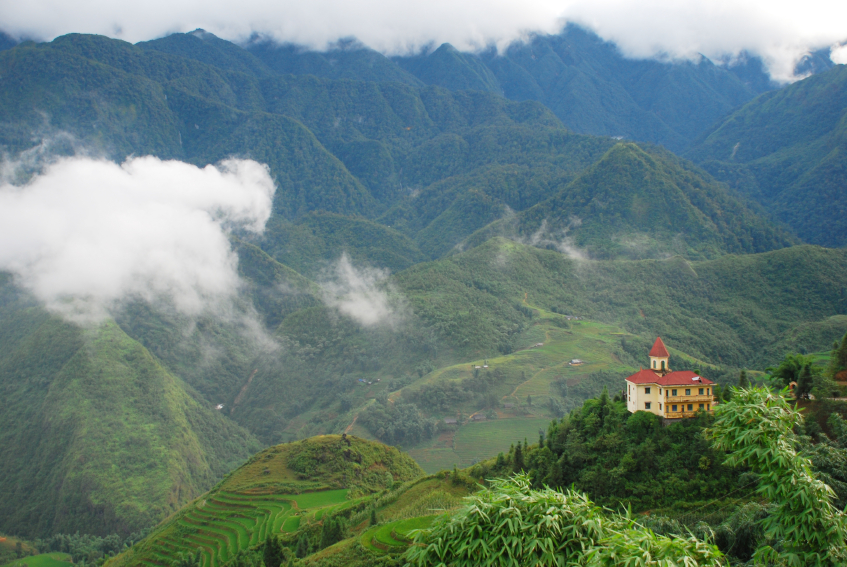 Sapa is an ideal add on to a stay in Hanoi or as part of a Vietnam tour. The most popular way to travel up is by the overnight train that takes approximately 10 hours and is a great holiday experience. We recommend the Victoria Express which is the most comfortable option with two or four berth cabins that, while not en suite, are tastefully decorated and provide the best facilities for the journey. One way is probably enough and so we recommend that you travel back by road as you will then get to see an alternative view of the region.
Interact with Hill Tribes
The ability to interact with the various hill tribes and experience everyday life in a beautiful setting is one of Sapa's main draws and to this day it remains a major trading post for more than 30 local ethnic groups that live among the rice paddy covered hills that carpet the region.
Experience the weekend markets
If possible try to be in the Sapa region over the weekend as the Saturday market brings the tribes together and many will be wearing their colourful local costumes.
Nearby on Bac Ha offers a less crowded alternative and arguably a better experience at its Sunday market. The market attracts traders from the colourful Flower Hmong, Phu La, Black Dao, Tay and Nung ethnic minority groups who converge here from the hills to trade and exchange goods.
The ideal gateway to further explore North Vietnam
You can also use Sapa as the gateway to further explore the north and build a tour that takes you deeper into this beautiful border region.
A stay in Sapa and the North can be as active or as relaxing as you want it to be: take a stroll along easy hill trails, explore markets, enjoy the fresh air and panoramic views or pull on your boots or jump on a bike to journey further afield, the choice is yours.