Majestic and mysterious in equal measure, over 1,600 limestone karsts dramatically dot this UNESCO World Heritage site and creates Vietnam's natural world wonder. Whilst cruising through this dramatic seascape it's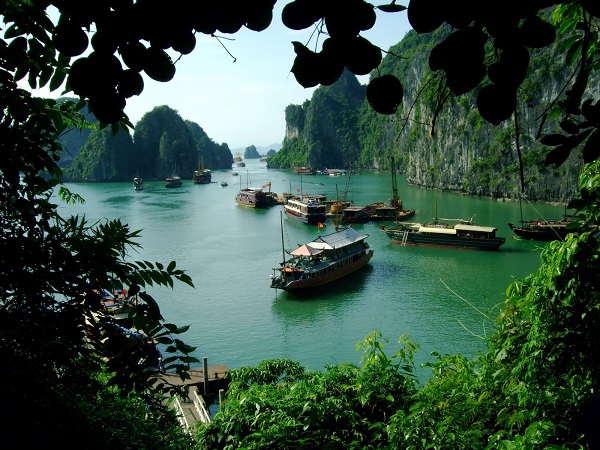 easy to visualise the legend that the bay was formed by dragons that spat out jewels and jade to protect the land from Chinese invaders.
How long should I stay?
We would recommend that you take an overnight cruise on a traditional junk as this allows you to fully enjoy the range of experiences and environments the bay has to offer, and see Halong at its best when the day-trippers go home.
Weather and season permitting you can explore island grottos and caves by foot and kayak, swim hidden lagoons, rock climb the limestone karsts, visit floating villages and sit back, relax and soak up the natural beauty whilst enjoying a cocktail on deck.
We can offer a range of cruises from a day trip right up to a private two night stay on a luxury junk. Each has its advantages, so please call to discuss your requirements
Add a Rural Stay on the Way to the Bay
Halong Bay is 3.5 hours by road from Hanoi, if you'd like to break the journey and add something extra to your holiday perhaps consider including a night at the Yen Duc Village. This is particularly popular with families as it offers access to an authentic rural village community whilst staying in comfortable accommodation. Whilst here you can enjoy cycling round the village, help out in the fields, fish and join in with traditional cooking and handicraft making. The following day you continue on to Halong Bay.
Add some Adventure after the Cruise
Vietnam has a series of superb National Parks, reserves and nature strongholds that act as the country's focal point for the preservation of native flora and fauna. South of Hanoi you'll find the Ninh Binh region, a land of dramatic landscapes and home to Cuc Phuong National Park, a true jungle preserve and Van Long Reserve, a water wonderland.
This is easily added to a stay in north Vietnam, as we can create a loop that goes from Hanoi to Halong Bay to Ninh Binh and back to Hanoi. Or if you'd like to travel by train, take the overnight service that runs to Hue and Hoi An on the Central coast.