With such a long coastline it's no surprise that Vietnam has such a variety of fantastic beach resorts that are a must on any Vietnam holiday. Some are now getting over developed as Vietnam looks to attract increasing numbers, whilst others still retain authentic charm.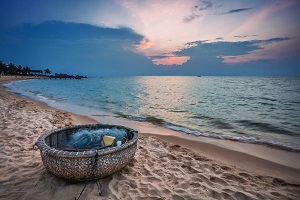 Mui Ne ticks all the boxes with beautiful sandy beaches lapped by azure seas and fringed by swaying palm trees. The added bonus that it's still fundamentally a fishing town adds to the authenticity with an active morning market and of course great seafood.
Adrenalin Capital of southern Vietnam
There's no scuba diving or snorkelling, but surf's up from August to December. Windsurfers also head here, especially from November to April and similarly kitesurfing has taken off with the infinite horizon blurred by dozens of kites flapping in the wind. If this all seems too much then the miles of beaches beckon.
Sahara Like Sand Dunes
Its other attraction lies at the end of the peninsula and will feel incongruous when compared to your other Vietnam experiences. Stunning red sand dunes dominate the landscape and you'll immediately see why Mui Ne is labelled "The Sahara of South East Asia".
Take the Train
Mui Ne is about 4-5 hours drive from Saigon and one of the most popular ways of getting there is by train, as you get to see a little more of the country and daily life in Vietnam as you travel out of the city, through the suburbs and into the countryside. You will be taken to the station and met at the other end.
All Round Champion
Mui Ne's development is still mercifully low rise and it's maintained a surfer vibe despite being a 4/5 hour drive from Saigon. It's probably the best all round resort in Vietnam, striking the right balance to create a relaxed atmosphere but with plenty of activities and restaurants to keep you happy. The added bonus is that is the driest region in Vietnam.