Vietnam has a series of superb National Parks, reserves and nature strongholds that act as the country's focal point for the preservation of native flora and fauna. South of Hanoi you'll find the Ninh Binh region, a land of dramatic landscapes and home to Cuc Phuong National Park, a true jungle preserve and Van Long Reserve, a water wonderland.
This is easily added to a stay in north Vietnam, as you can create a loop that goes from Hanoi to Halong Bay to Ninh Binh and back to Hanoi. Or if you'd like to travel by train, take the overnight service that runs to Hue and Hoi An on the Central coast.
A sanctuary for endangered species
Cuc Phuong is a true jungle preserve, a great place to take a walk with your private guide. You will see plenty of birds and should hear gibbons call, perhaps with a fleeting sighting. If you visit between April and June you will see millions of butterflies. It's also home to a group of rescue centres established to receive endangered wild species rescued from poachers and to act as the focal point for endangered species conservation in Vietnam.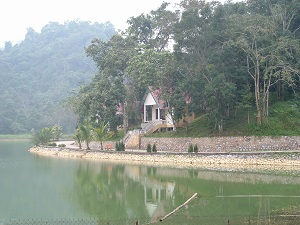 This includes the Endangered Primate Rescue Centre with approximately 120 primates in breeding programs, including 15 different subspecies of Gibbons and Langurs living in large forested enclosures and from which some will hopefully re-enter the wild or at least enjoy a semi-wild existence.
To really enjoy the park you have to get out and about and there are numerous hiking trails that explore the jungle and offer great bird watching opportunities, especially in the early morning and late afternoon.
Approximately 2.5 hours from Hanoi you can include Cuc Phuong as a day trip, but you then miss the best times of day (early morning & late afternoon) for watching wildlife and by staying overnight in the park accommodation (simple hotel/chalets) you can also enjoy a nocturnal walk with the opportunity to see the more elusive animals and also combine the Park with a trip to Van Long Nature Reserve. Just outside the park there are also a choice of superb hotels in Ninh Binh that are worth extending your stay at and enjoy a less visited part of Vietnam.
Van Long Nature Reserve
Amongst impressive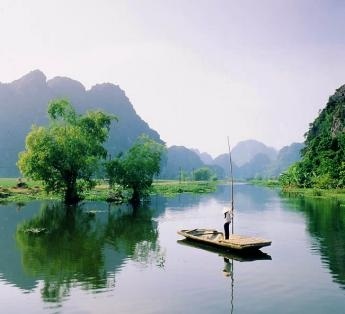 limestone scenery surrounded by a shallow wetland, filled with Lotus flowers and water lilies you'll find Van Long Nature Reserve. Part of a series of interlinked waterways, the region is nicknamed 'Halong Bay on the Rice Paddies' because of the dramatic scenery and on an extended stay is a great place to explore by bike and enjoy the beautiful rural scenes.
The most popular way to see the reserve is to climb aboard one of the small bamboo boats and be paddled through the wetland scene. One of the animal attractions is the threatened Delacour's Langur that can often be seen climbing on trees and over limestone rocks. During spring and autumn Van Long is a great place to observe migrating raptors and it is also the only known breeding site for the magnificent Bonelli's Eagle in Vietnam.