History buffs will love central Vietnam and its heartbeat has to be the Imperial City of Hue. Straddling the Perfume River, this was the Nguyen capital, the last dynasty in Vietnam. It's also a great base from which to explore the demilitarized zone (DMZ), countryside and coast.
The Mighty Citadel
Hue is dominated by The Citadel, a moated fort whose walls protect the forbidden Purple City, the former home of the royal family. Take your time wandering through the fascinating tombs, temples and museums and past pagodas, lakes and pavilions. As you walk around you'll also see the scars still visible from the Citadel's prominent role during the Tet Offensive.
Visit the Thien Mu Pagoda
Cruise a mile or so along the Pefume River to find Hue's best-known religious site, the Thien Mu Pagoda. Built on a hill between the river and pine forest the distinctive seven-tiered octagonal tower is the focal point of the complex and is one of the oldest and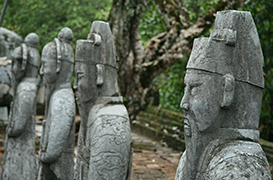 most attractive in the country. Continue through the working monastic complex to a beautifully kept garden and cemetery at the base of the Truong Son mountains.
Day tour To DMZ
About 2 hours north you'll find the demilitarized zone (DMZ) that can easily be included in a day tour. The day will include the Ancient citadel of Quang Tri, scene of one of the heaviest battles and Hien Luong Bridge that lies on the Seventeenth Parallel, the border between North and South during the war. The highlight will be the fascinating Vinh Moc Tunnels that were built to shelter locals from the intense bombing and reached a depth of 30 metres with wells, kitchens and spaces for healthcare. Home to 60 families, apparently no villagers lost their lives.
Explore the Countryside
Hue is also surrounded by beautiful countryside and one of the most popular day tours is combine bike and car to visit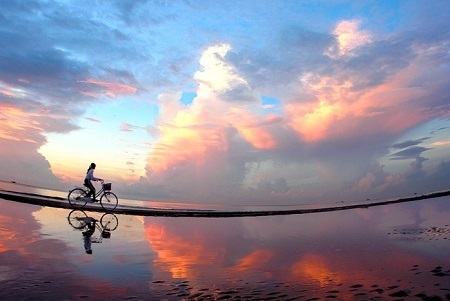 Phuoc Tich Village & Tam Giang Lagoon. Phuoc Tich village is dotted with 27 'Nha Ruong' (Hue's traditional houses) and unique gardens. At one of the homes try making 'banh gai it', a traditional Hue cake then hop on a bicycle and take an easy ride to Tam Giang lagoon winding through the countryside. Stop at Quang Cong Village, known as the 'City of Ghosts'. On arrival at Tam Giang Lagoon enjoy lunch and take a boat ride on the lagoon. Float past local families living on the riverbank, stopping to meet some of them on your way.
Combine with Hoi An
Hue remains the intellectual, cultural and spiritual heart of the country and is best included within a touring holiday with Hoi An. The drive between the two is one of the best in the country as it follows the dramatic coast road to give great views along the way. More of an excursion than a transfer showing you a little more of Vietnam.