Mai Chau Valley is home to a verdant landscape dotted small villages, meandering streams, and countless rice fields all surrounded by dramatic limestone karst mountains.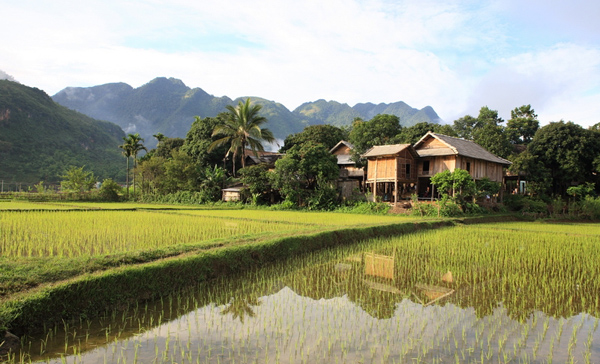 Ideal for hiking and biking...
The varied landscape makes an ideal base for a range of hiking and biking options along inter village paths past working paddy fields and orchards, whilst the villages provide easy access to everyday life and opportunities to buy local products such as woven fabrics. If you can coincide your stay with the weekend, don't miss the market that brings in people from all over the area to trade and meet friends and family. Often wearing traditional costumes it's a colourful scene that shouldn't be missed.
Whist in Mai Chau stay at the picturesque Mai Chau Lodge which offers the best accommodation in the area, complete with swimming pool, restaurant and a bar. Alternatively the more adventurous can enjoy an authentic homestays in a minority-tribe village on a Vietnam Holiday.
Extend the Tour to Ninh Binh & Halong Bay
If you would like to further extend your touring, a stay here can be added to Ninh Binh where you find Cuc Phuong National Park and the Van Long Wetlands Reserve. You can then continue on to Halong Bay and loop back into Hanoi.
Add Pu Luong Nature Reserve
Pu Luong Nature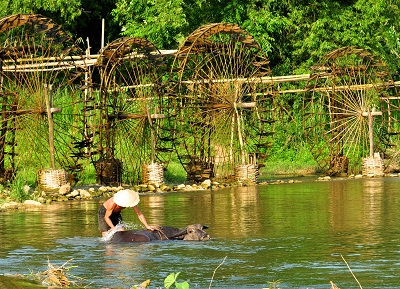 Reserve is just 2 hours from Mai Chau and offers a superb range of hiking options that get you further off the beaten track.
Essentially Pu Luong is made up of two parallel mountain ridges that are split by a large central valley where villages and farms thrive. The mountain ridges are very different, with one characterised by wide valleys and forested hills and the other starker with dramatic limestone karst mountains. This varied terrain allows visitors to enjoy a superb mix of walks blessed with rich forest, limestone panoramas, magnificent rice terraces and breathtaking scenery.
The other main draw is that the reserve is home to a number of ethnic minority hill tribes and any stay can include homestays in Thai and Muong villages and the chance to briefly share their everyday life and culture. Please call to discuss or email for more details.