Con Son is the largest island in the Con Dao archipelago set in the South China Sea. Just a short hop from Saigon brings you to this former penal colony that now seems destined to become one of South East Asia's up and coming beach destinations.
A mecca for diving
All the necessary natural attractions are in place as Con Dao is a maritime and terrestrial National Park.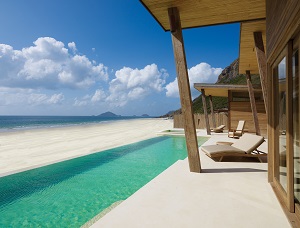 This status has protected the waters from destructive fishing practises and created a mecca for diving in Vietnam, with over 1,300 marine species so far identified.
It is also at the forefront of Vietnam's marine conservation as an important nesting site for Hawksbill and Green turtles that come ashore from June to September, as well as the very rare dugong.
A hidden gem
Con Son is largely mountainous and covered in forest, with ample opportunity for hiking through the jungle. The islands were inhabited until the French decided it would be ideal as a Penal Colony and built a large complex where prisoners were shackled, starved and forced into hard labour.
Unfortunately this was continued by the Vietnamese and then the Americans until it was closed in the 70's. There's a small museum and cemetery that you can visit.
The island is also home to a coastline of steep, rocky hills and long sweeping coves, boasting some beautiful beaches and snorkeling sites and it's these that will attract holidaymakers in coming years.
There are currently just a few hotels to choose from and the deluxe Six Senses Hideaway and boutique first class Poulo Condor Boutique Resort & Spa stand head and shoulders above the competition. Hopefully this will just be the start and other hotels will start to appear.
As ever places rarely improve with popularity, so make it a "must do" next time you visit Vietnam.