The iconic Mekong Delta is one of the main attractions when visiting south Vietnam. Stretching down from Saigon to the coast, the myriad of interconnecting canals and waterways are home to villages, markets, orchards and cottage industries. There is a superb range of ways to experience it, whether it be on a day tour, overnight cruise, private overnight tour or cycling adventure with homestay.
Travel Vietnam in style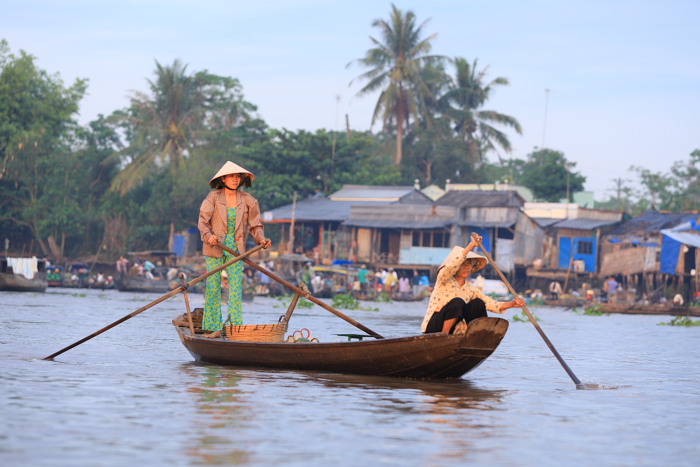 Enter a world of water as the miles of inter-connecting canals and rivers form the "green lungs of the Vietnam" as they ferry the vast quantities of rice, fruit and vegetables that are grown here, much of which ends up in the delta's fascinating, bustling floating markets which can be experienced on any southern Vietnam holiday.
One of the most popular ways of immersing oneself in delta life is to board a boat and join the morning crush of the floating markets and take time to explore the backwaters visiting local orchards, traditional villages and fish farms.
Cruise, Tour or Cycle
The most popular way of exploring the delta is to take a day tour that includes a boat ride. We only use boats that hold between 2 and 12 people as you can then get away from the main tourist hot spots and explore the lesser visited areas. To enjoy a more in depth experience perhaps take an overnight cruise or spend a night in the delta at the beautiful Victoria Can Tho Resort. If you're a bit energetic then the delta is a great place to explore by bike and is relatively flat, so we can recommend a variety of 2 or 3 day bike tours. The Mekong also offers a great opportunity to travel in style to Cambodia as you cruise through this fascinating world all the way to Phnom Penh or Siem Reap (Angkor). A more cost effective option is to have an extended stay in Chau Doc in the Mekong Delta bordering Cambodia and then take a boat to Phnom Penh.
Add a beach stay on Phu Quoc Island
If you take the overnight cruise, hotel stay or bike tour then why not add a stay on the beautiful beach island of Phu Quoc? The delta airport offers a direct flight to the island, so removing the need to return to Saigon.